Do you feel success and eminence are clearly biased towards a well-dressed man? While looking and feeling good is also compelling enough to learn how to dress well, the general trait of neatly dressed men progressing well convinces us to look nice.
To get started with the style advice on dressing up well, you must ensure tailored fits, coherent color contrasts, and sophisticated accessorizing. Apart from that, you must stay on top of your grooming game and wear clothing without wrinkles. Read on to know the "how to dress better" tell-all for men, understanding the well-dressed style in depth.
Shedding Light On How To Dress Better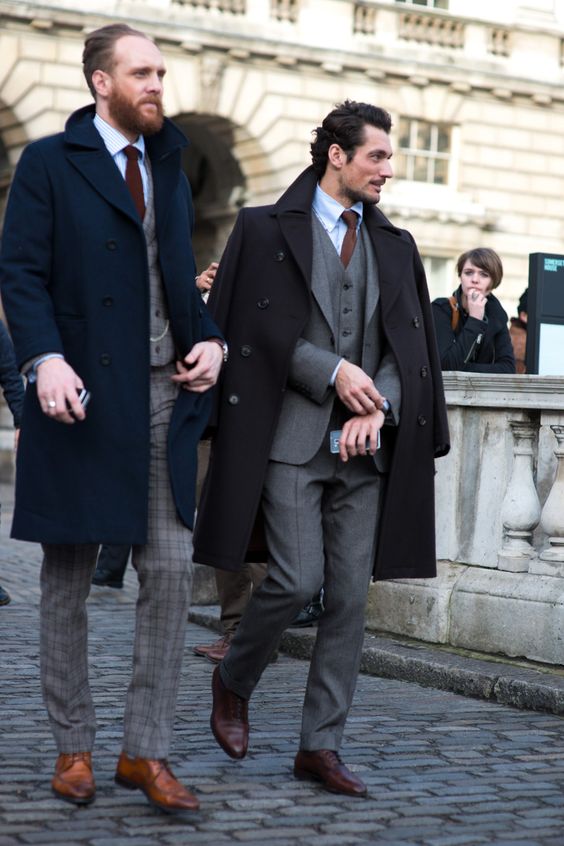 Classy dressing leaves a great impression. A well-dressed man can feel confident that he can easily solve problems. A study has shown that people feel more authoritative and intellectual in their formal wear. Once you exude that air of authority and confidence through your wardrobe, you'll find yourself in good company among others you meet on your path to excellence.
The art of how to dress well for men depends upon your social and cultural aspects as well. To be the best-dressed person in the room, always attempt to dress a level higher than others. Do you want to appear more powerful? Add a blazer to a business casual ensemble. An undoubted fact is that suits are quite powerful a style weapon. Solid or striped pattern options complement widely-spaced, plain white pinstripes that are subtle to formal dressing.
Another study shows that dressing oneself can make oneself available to others. They tend to admire you for your effort to dress better. The trend that has been there since centuries is that a shabbily dressed man cannot be trusted as he is irresponsible and unorganized. This again emphasizes the need to wear neat, well tailored, well ironed clothes to your workplace.
Rules for How To Dress Better for Men
Refined dressing styles include formal, semi formal, business casual and smart casual styles. Each category has its own rules for dressing up, varying in level of formality. The men with a good sense of style must know how to ace dressing in each style.
Find Your Personal Style
Personal style is something that is how you present yourself with a unique flair. It's about flaunting your individuality, using clothes and accessories to assist you. It's a challenge to find your personal style, and it can take lots of experimenting and thinking out of the box to decide what's best for you. To begin with, you can play with different fabrics, textures, and colors to portray distinctive looks.
You may also look at what your favorite celebrities wear and choose which style fits you the best. Think about experimenting with various appearances for a few days and look out which style suits you the most. Your personality will showcase through your clothing.
Thus, discovering your style is equal to learning about yourself.
Keep Up With Your Grooming
Personal grooming is a part of every men's style guide, as it impeccably reflects your personality. A well groomed man feels hygienic and as a result, looks attractive. Regular grooming habits also improve your skin and hair texture. Here are some grooming tips to follow regularly:
Your hair should be a style that suits your face and complements your persona.
Use hair care products to prevent hair loss and become healthy and shiny.
It would be best if you made a routine to trim your facial hair before and after the bath.
Cutting your nails and scrubbing your feet reflect how you are an organized man.
Prevent body odor by taking a bath daily, and apply a deodorant.
Moisturize your skin, not forgetting your lips.
Invest in Timeless Pieces
Stylish men with good taste in clothing always look for timeless clothing and accessories. Timeless clothing reflects a classic fashion; its design is always trendy. It reduces extra purchasing of outfits, and lasts a long time if you consider a premium quality.
For instance, a black leather jacket is a classic wardrobe staple by style icons. Black, navy, and gray suits are the classic option for fashion trends. Overcoats are another staple for a classic ensemble. Some more classic pieces are black jeans, white Oxford shirts, and chinos.
With timeless clothing, you will also grasp how to dress better for men without spending more money.
Build a Collection of Assorted Shirts
Shirts are like the identity of a man and will remain a capsule wardrobe staple. Your choice of shirts make you stand out in the crowd. Wearing a classy dress shirt becomes easy with the collection of assorted shirts. The availability of many plain, plaid, and other styles has risen thanks to online shopping. You can create your gorgeous wardrobe with various prints and patterns.
Opt for Tailored Clothing
It is best to showcase your style through well-fitted, tailored clothes. You can take help from a tailor to take your body measurements. A clothing item made to measure for a specific person makes one look sculpted and dashing. Off the rack pieces, on the other hand, may make you look shabby being ill fitted. Don't forget the quality of stitching and fabric. Tailored clothes are durable and worthwhile as they save time and money.
Alter Ready Made Clothing Before Wearing Them
Men wearing contemporary trends in an appropriate fit look admirable. A readymade option is viable if you want to add a stylish and decent ensemble. Readymade pieces may seem stunning, but most of the time, they need to fit due to their free sizing. You can opt for help from a tailor, who can alter your readymade clothing item according to your size. It will improve your appearance incredibly.
Curate a Good Shoe Collection
No matter what style you follow, footwear gives any attire a stylish finishing look. It reflects classiness and boosts confidence. It presents you as a man of good taste and status in society.
Choosing excellent shoes can make a stylish mark in the crowd, exuding the charisma of your personality. Leather is the best material for dress shoes and casual shoes. You may curate your wardrobe with some elegant shoes like: Brown Borgues, Oxford or Derby shoes, Brown Loafers, Suede Chukka boots or Brown leather boots.
Learn Accessorizing
Accessorizing may be adding a detail as small as a watch to your outfits, or a mix of things. People may use accessories to make a signature style. It is unique and complements your ensemble. If you wear one accessory all the time, it becomes your style.
Men's fashion, in general, is highly dynamic, often going through a lot of changes. But some classic accessories, such as a dress watch, always stay in trend. A pocket square is used in formal dressing, and is a nice accessory to elevate your formal outfit.
Choose Eyewear that Complements Your Face
Eyewear can make a bold statement in an elegant dressing style. Choosing the right shades can be tricky, depending on your face shape. Eyeglasses' color and weight need to integrate into your style aesthetic. Try out what suits your facial features. For instance, people with an oval shape go for a wider frame. A round face can opt for more angular frames. Lightweight frames or frame-less glasses also look stylish.
Get Inspiration from Style of Well Dressed Men
Getting Inspiration From Social Media Influencers
Men's fashion influencers, specifically those on Instagram, Youtube, or Tiktok are trending among the masses. They post helpful content to give styling tips to their followers.
Jose Zuniga is an American YouTuber and entrepreneur, who has a channel on Youtube, 'Teachingmensfashion'. It often features tips for hair and apparel. Jose founded his own company 'ESSNTLS' with his brother. Their brand was so successful that they sold more than $1 million worth of goods on the day of introduction! Visit his channel and Instagram account if you want basic styling tips for men.
Lorenzo is an Italian influencer who travels the world in immaculate style. Dior, Jaguar, and Emporio Armani are just a few high-profile brands that the former model has collaborated with. His popular blog, Your Mirror Style, was founded in 2012. On Instagram, he has already gained the following of almost 200k users.
Andrew Wise started a high-end lifestyle site. He is focused on travel, fashion, and lifestyle with his wife, Stephanie. The Brooklyn-based fashion influencer provides style advice while dressed in a mix of casual and professional wear. He has 20,000 subscribers on his YouTube account.
Getting Inspiration From Hollywood Celebrities
Most of the time, our eyes are on what is happening on the red carpets of any event. Some Hollywood stars are more daring than others.
Tom Hardy always looks magnificent in outfits that most people wouldn't know how to wear. Hardy became a fashion hero thanks to his suits and ties. He knows how to rock the red carpet without straying from his distinctive look.
Justin Timberlake has borrowed many characteristics from styles of past celebrities. Given his distinctive flair, Justin is one of Hollywood's best-dressed male actors.
George Clooney, A well-known actor and philanthropist, George does not take drastic fashion chances. Instead, he is a masculine man who knows what complements him well and what does not.
Getting Inspiration From Designer Collections
Giorgio Armani is a well-known Italian designer. His renowned Italian fashion house has created a global empire based on stylish tailoring and consistent service. He represented his work with redefined modern tailoring, adding classic staples to every man's wardrobe.
Ralph Lauren, an American fashion designer who formed a fashion house in 1967. Ralph Lauren is well known for its most popular polo shirts. Ralph Lauren's product lines include clothing for men, women, children, and sports. They also have extensive accessories.
How To Dress Well? Outfits to Try for a Neat and Classy Look:
Formal Styling Ideas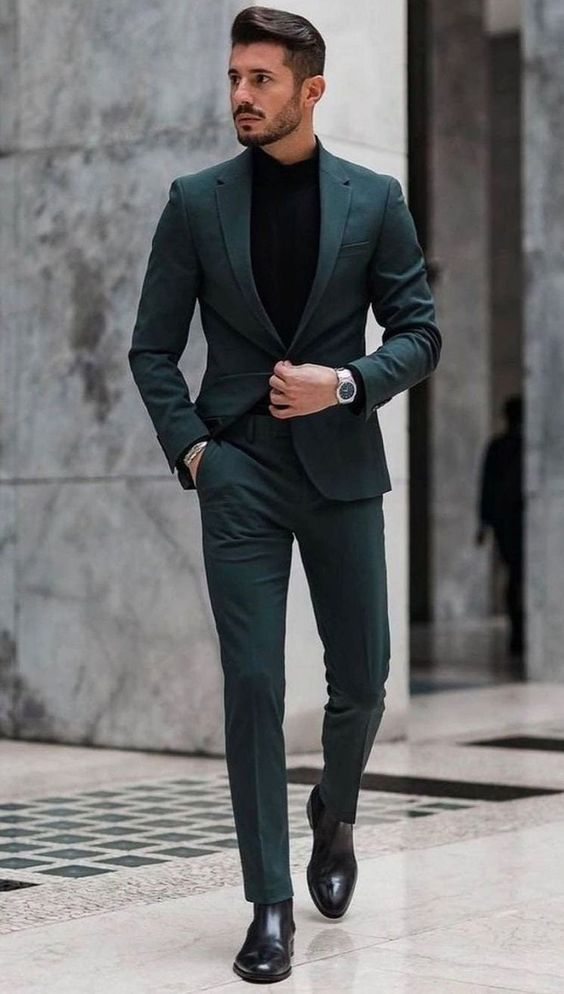 An all black suit is genuinely a statement-maker. It is paired up with a white dress shirt and complemented with a black textured tie. Balance your ensemble with formal shoes like Oxford black shoes.
A combination of a dark green two piece suit with a black dress shirt might pack a punch, but it's straightforward to copy. Wear dark brown Chelsea boots to add to the wow factor.
To pull together an elegant ensemble, just a gray suit paired with a light pink dress shirt. Add a textured pocket square. To finish this look, put on dark brown leather tassel loafers.
Semi Formal Styling Ideas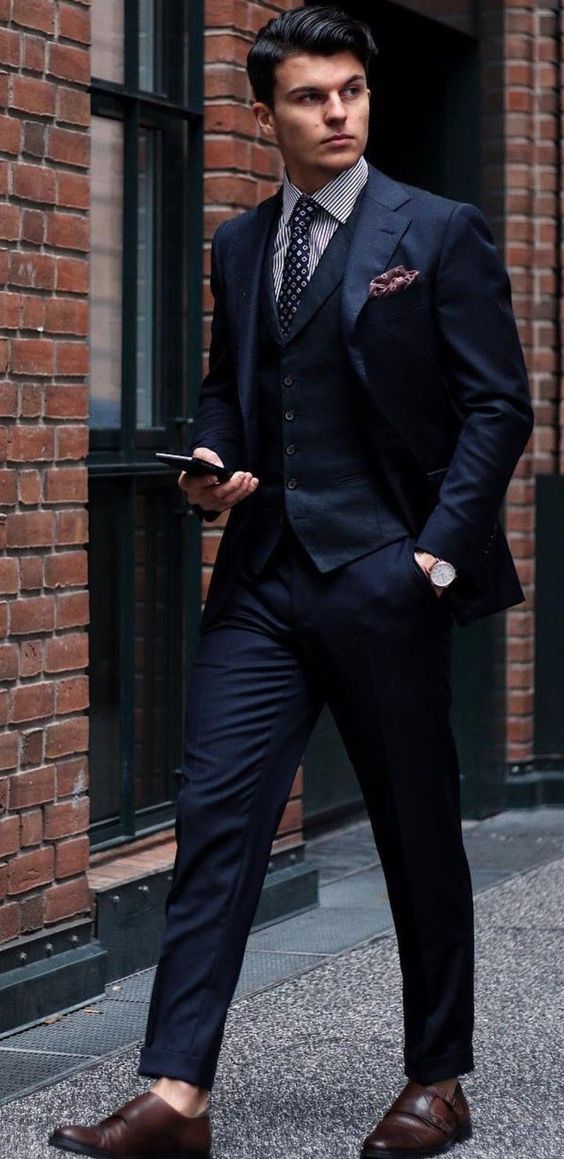 A navy three piece suit with a vertical striped long sleeve shirt looks classy when paired with a navy dress shirt. Introduce brown leather Oxford shoes to the mix to have some fun with things.
This classy combo of a black three piece suit and a light blue dress shirt with a brown paisley tie is a favored choice among the sartorially superior men. A pair of brown leather loafers with black socks can integrate smoothly within various ensembles.
This outfit proves worth investing in smart menswear, such as a brown three-piece suit and white Oxford dress shirt with a navy tie. If you are not sure about the footwear, complement this look with burgundy leather Derby shoes.
Business Casual Styling Ideas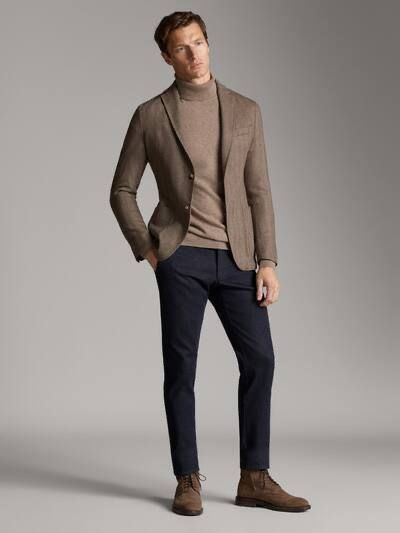 Opt for a light brown turtleneck, a brown sports coat and charcoal chinos for an elegant business casual ensemble. A pair of brown leather Derby shoes rounds off this look quite nicely.
A navy blue blazer with a white and black striped dress shirt and off white dress pants? This menswear style will turn every head around. Add a pair of brown leather monk shoes to your look for an instant style upgrade.
A charcoal blazer with a light purple dress shirt and gray dress pants is worthy of a modern, fashion-forward dress. When this outfit is too much, tone it down by finishing with dark brown leather tassel loafers.
Smart Casual Styling Ideas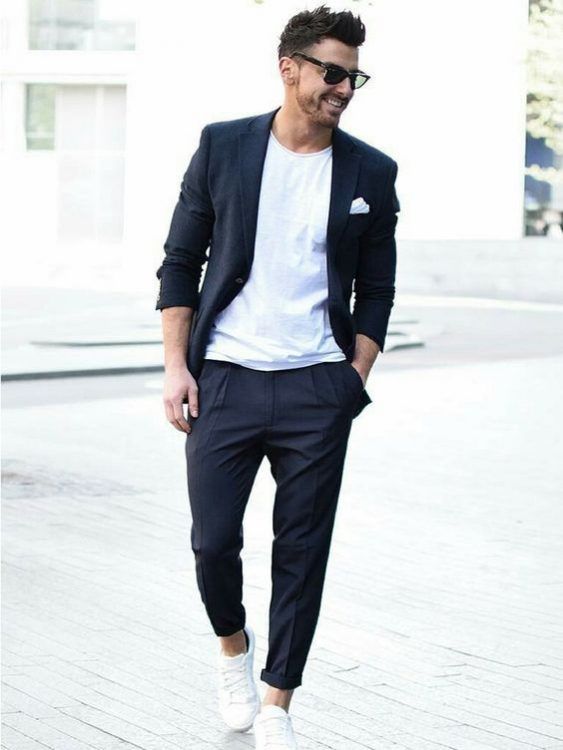 A combo of a black blazer with a white round neck tee and black dress pants instantly makes any man look classy and sharp. White canvas low top sneakers will quickly tone down a smart casual look.
For a laid-back and cool look, combine a grey full sleeved polo with navy slim fit jeans — these two pieces fit beautifully together. Spruce up your ensemble with black leather tassel loafers.
Team a navy shirt with khaki pants for a laid-back and cool ensemble. Spruce up your outfit by rounding off with olive canvas low top sneakers.
Dressing Well: Contemporary Fashion Tips For Men
Silhouettes are more relaxed in dressier styles. However, apparel does not have baggy and sloppy designs.
A plaid jacket is a huge trend these days. Go for a classic blazer in this pattern for an elevated look. You may layer it over solid colored shirts.
Wool blend suit jackets always look dapper when paired with jeans and stylish shoes. You may layer them over a turtleneck and a t-shirt as well.
You can occasionally wear western boots to add a little country flair to any outfit.
Chinos are timeless pieces; whether black or navy can't go wrong with a combination.
FAQs
Is A Well-Dressed Man Attractive?
A well-dressed man is sophisticated and presentable. He is confident about his style, which is portrayed in his looks. Good fashion sense and grooming habits instantly make the man more attractive.
How Can A Guy Look Smart?
A guy may look smart and sharp by taking care of his grooming habits first. Appropriate pairing of clothes followed by coherent accessorizing makes him look sharp. A perfect watch and wallets are stylish accessories to add to your ensemble.
What Makes A Man Very Attractive?
The main features that make a man very attractive are his physical appearance, charisma, and professional value, often helping him become attractive. Nowadays, self promotion on social media does wonders to attract the crowd.
What Do You Call A Man Who Dresses Well?
A well-dressed man is a dapper who maintains his charm with grooming and styling. Rather than a rugged or a nonchalant look, he prefers to look neat, opting for tailored clothing.
Final Thoughts
If you want to learn how to dress well and stand out in a room full of people, the style suggestions and outfit ideas are adequate to get you started. Make sure you build a well groomed as well as a well mannered persona to portray yourself as an admirable man.